THE MINI CREW

Sale
Serves 2-4
Perfect for you, the gourmet snacker… And if you feel like sharing, The Mini Crew is dinner for 2 or aperitif for up to 4. Select from three options to experience the complete luxury and quality of Slow Table grazing, carefully curated to help you create those memories that you and your fellow diners will cherish together.

Each box includes two cheeses, two cured meats, three accoutrements and a dessert item. They also come with serving tips and a host checklist to support you in setting the vibe.

Read about the featured products in each box in the description tabs below!
Why Slow Table?

We source the highest quality products from around the world and curate pairings to satisfy tastebuds across the full spectrum of cheese, charcuterie, and accoutreerments. Expect to fall in love with new favorites alongside tried and true staples.

Each box comes with a blueprint and instructions for prep and assembly, as well as the story on each product for when your guests ask, "What kind of cheese is this?" Whether you've been entertaining Slow Table style for years or you've always aspired to, you'll come off as a pro every time, in a fraction of the time that it would take to do it all yourself.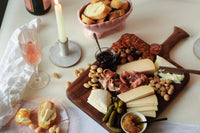 THE MINI CREW
- On A Mountain By The Sea
$135.00